Alternative names: intervertebral hernia, disc herniation of the spine, a herniated disc, prolapse of the disc.
The spine consists of the vertebrae and disks. The intervertebral discs are located between the vertebral bodies. Their main function is the cushioning of the spine during physical activity and ensure the stability of the adjacent vertebrae in the spinal motion segment (SMS), in other words: functional spinal unit (FSU). In addition, owing to their elasticity, the discs are the major factor of determining the flexibility of the spinal column.
(SMS or FSU is a term denoting a functional unit of the spine and represents the articulation of two adjacent vertebrae with the disc between them plus the surrounding ligaments and muscles).
Human body has 23 intervertebral discs. The first is between the bodies of the second and third cervical vertebrae (C2-C3) and the last is between the bodies of the fifth lumbar vertebra and first sacral (L5-S1).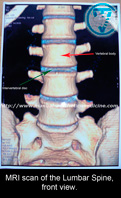 Anatomically, they are represented by fibrous and cartilaginous substance as a discoid shape (hence the name is). The disc's diameter is about 40 mm. The thickness of it depends on the part of the spinal column, (on average is 4-10 mm). The largest disc size is detected in the lumbar spine, the smallest is in thoracic spine.
The disc consists of three parts: a very strong fibrous ring (annulus fibrosus), inside of which is lying gelatinous (jelly-like) substance, which is called the nucleus pulposus. It is believed that the core is the main absorber of the spine. Inter-vertebral discs separated from the vertebral bodies by a thin hyaline cartilage (end plates of vertebra). They have a dual purpose: on the one hand, they protect the spongy bone of the vertebral bodies from excessive pressure caused by the nucleus pulposus during the load and on the another hand, the cartilage plates of the inter-vertebral discs receive nutrients and they continuously renew the liquid portion of nucleus pulposus.
Feedback from our patients: